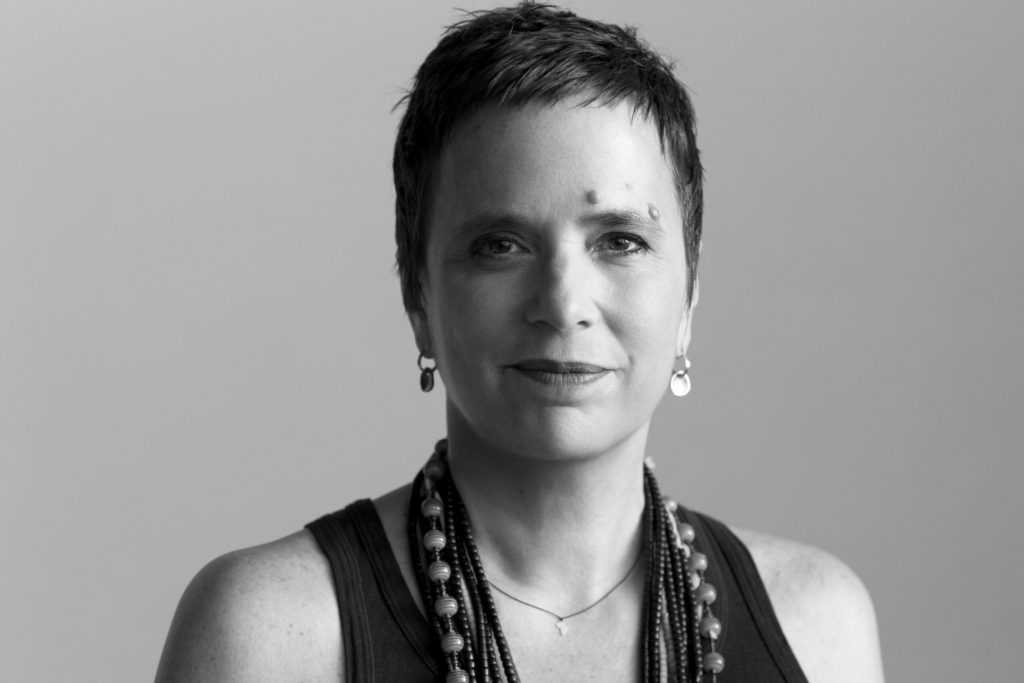 V is the Tony Award-winning playwright, activist, performer, and author of the Obie award-winning theatrical phenomenon The Vagina Monologues, published in over 48 languages, performed in over 140 countries, and heralded by The New York Times as one of the "best American plays" of the past 25 years and that "no recent hour of theater has had a greater impact worldwide."
Her plays include Lemonade, Extraordinary Measures, Necessary Targets, O.P.C., The Good Body (Broadway and National Tour), Emotional Creature and Fruit Trilogy. V recently performed In the Body of the World as a one-woman show, which she adapted for the stage from her best-selling, critically acclaimed memoir to rave reviews at Manhattan Theatre Club, after its debut at the American Repertory Theater. She helped create That Kindness: Nurses in Their Own Words presented by Brooklyn Academy of Music in collaboration with theaters across the US, as a tribute to nurses during the COVID 19 pandemic. She's currently writing the story and co-writing lyrics for a musical fable Wild that made its world premiere in December 2021 at The American Repertory Theater.
Her books include Insecure At Last: A Political Memoir and The New York Times best seller I Am An Emotional Creature. Her newly released and celebrated best-selling book, The Apology, now published in nearly 20 languages, has been called transfixing, revelatory, and cathartic.
Film credits include The Vagina Monologues (HBO) and What I Want My Words to Do to You (Executive Producer, Winner of the Sundance Film Festival Freedom of Expression Award, PBS) and Mad Max: Fury Road (Consultant).
She is founder of V-Day, the almost 25 year old global activist movement which has raised over 120 million dollars to end violence against all women (cisgender and transgender), gender diverse people, girls and the Earth, and the founder of One Billion Rising, the largest global mass action to end gender based violence in over 200 countries. She is a co-founder of the City of Joy, a revolutionary center for women survivors of violence in the Democratic Republic of Congo, along with Christine Schuler Deschyrver and 2018 Nobel Peace Prize laureate Dr. Denis Mukwege, and appeared – along with Christine and Dr. Mukwege – in the award winning documentary film City of Joy, available on Netflix.
V was named one of Newsweek's "150 Women Who Changed the World" and The Guardian's "100 Most Influential Women." Her writing regularly appears in The Guardian.
In addition to the Isabelle Stevenson Tony award and the Obie, she has received numerous awards including a Guggenheim Fellowship in Playwriting, Glamour's Woman of the Year, the Lucille Lortel Lifetime Achievement Award and the Lilly Award, as well as many honorary degrees.
Her new book Reckoning will be published in 2023 by Bloomsbury.
"Greater than the sum of its parts – The Vagina Monologues 20 Years on" 
(The Economist, 12 January 2018) 
"Even with a misogynist predator-in-chief, we will not be silenced" 
(The Guardian, 23 August 2017)
"What happens when you perform "The Vagina Monologues" at a male prison" 
(Quartz, 6 May 2016)
"This is What Revolution Looks Like: One Billion Rising Revolution Photo Essay 
(Huffington Post, 23 February 2015)