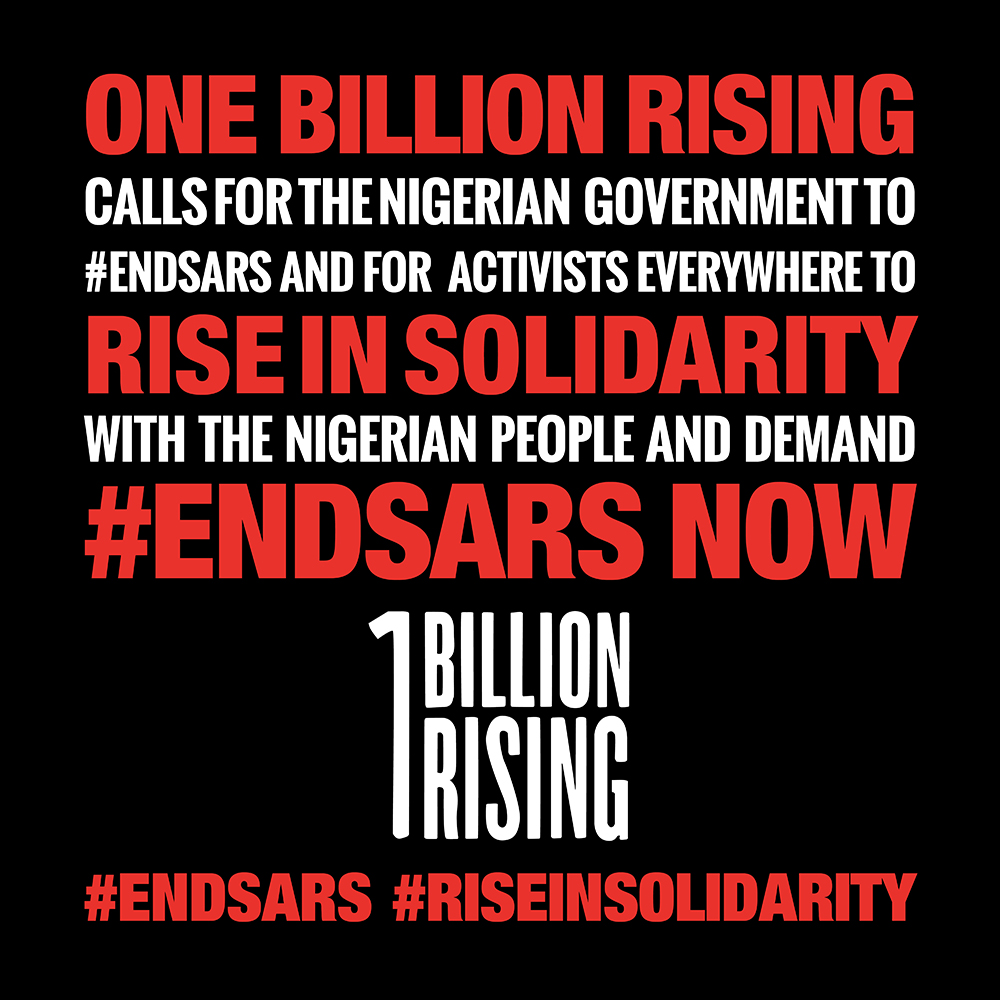 21 Oct

One Billion Rising Calls for the Nigerian Government to #EndSARS; NEW Voices Listening Tour this Friday

One Billion Rising calls upon the Nigerian government to end SARS, the Special Anti-Robbery Squad, which has a brutal history of unlawful arrests, kidnapping, harassment, extortion and killings.  As the government sought to end two weeks of marches against police brutality that have mushroomed into broader nationwide demonstrations, thousands of Nigerians – spurred on by young people – have taken to the streets to protest SARS.  While the government announced Sunday that the unit was being disbanded, soldiers opened fire into protesting crowds in Lagos late Tuesday night.  News media are reporting that one person was killed and 30 people were injured, but reports are coming in from the ground that 80 peaceful youth protestors were shot and many brutally murdered. We are also hearing reports that the army is further going to hospitals to kill survivors.

Violence against humanity is a calamity across the world, this is why we RISE IN SOLIDARITY.  OBR is rising in solidarity with the people of Nigeria – calling for an end of the brutal killings happening in Lagos, Nigeria. We call for the Government's accountability on the recent killings.  The perpetrators of the killings must be brought to justice.

Protesters are demanding reform across law enforcement in Nigeria, and the system of policing system that was put in place during colonialism and remains rooted in colonial oppression.

Demonstrators hold banners as they protest police brutality in Lagos on Oct. 20. PHOTO: SUNDAY ALAMBA/ASSOCIATED PRESS
Activists on the ground are calling:
For the Nigerian government to #EndSARS now.
For the Nigerian government to stop the shootings and killings of peaceful protestors.
For International Politicians to call upon the Nigerian Government to End SARS, stop the shooting and killing of peaceful protesters, and hold the government accountable for its actions.
For the global community to sanction Nigerian politicians from travelling outside the country so that they can take action on what is currently going on.
We stand in solidarity with activists on the ground. #EndSARS, prosecute officers accused of extortion, torture and extrajudicial killings. Hold the government responsible. #EndSARS.
– Colani Hlatjwako, One Billion Rising Africa Coordinator and One Billion Rising
TAKE ACTION:
Share this message widely and activate and educate your networks. Together, let's stand together in global solidarity with the activists and the Nigerian people and shine a light on these atrocities.
READ about what's happening:
THIS FRIDAY – VOICES: the Virtual Listening Tour with Aja Monet, Dr. Safiya Umoja Noble and Mandy Harris Williams in conversation, Sistering and Storytelling in the Age of Social Media
"How do we intercept algorithms of oppression to tell stories of liberation? In times of decolonial uprisings and media blackouts from Nigeria to Namibia and all over the world, we understand that we must intervene in the digital space to reach for each other, build bridges of solidarity, and advance counter-narratives in the name of liberation for all." – VOICES
Dr. Safiya Umoja Noble is an Associate Professor at UCLA in the Departments of Information Studies, African American Studies, and Gender Studies and Co-Director of the UCLA Center for Critical Internet Inquiry. She is the author of the best-selling book, "Algorithms of Oppression: How Search Engines Reinforce Racism", and is co-editor of The Intersectional Internet: Race, Sex, Culture and Class Online, and Emotions, Technology & Design. Mandy Harris Williams is an LA based artist, educator and radio host. Mandy's work focuses on desirability privilege as a real and mythological market and political force, encouraging us to think more critically about social media and the internet, advocating for #BrownupYourFeed to make social media feeds more representational.
Tune in:
DATE: Friday, 23 October
TIME: 7:00pm ET
VIEW LIVE: Instagram @visforvoices
Visit voices.vday.org